Tiesą sakant, ne apie mus, o apie tavo pėdas
Founded and run by two longtime friends, Shleps was born out of a shared thirst for a challenge and a vision for environmentally and socially sustainable business.

The first pair of Shleps was knit by Edu's grandma - as a gift for a climbing grandson. Wasn't long before people in the climbing gym started noticing and putting ideas into our heads - so here we are! Although difficult to replicate at scale, with each pair we seek to embed at least some of the warmth and good will out of which the original pair was born. We mean it to be felt not only by our customers, but also by the people involved in the production.
We intend Shleps to serve well and for a long time. Put simply: any enterprise is as good, as their products are. Handmade products have a good reputation for a reason: they are not finished until after passing the most rigorous quality test of all - the one of their craftsman.
We believe in circular economy and work to approach it. This manifests in our all-local supply chain, which significantly reduces our carbon footprint due to avoided transportation as well as gives us direct oversight over the practices our suppliers engage in. From the wool woven into our fabric, to the packaging it reaches your door in - our materials are sourced with environmental sustainability in mind. We are sworn to actively work on further reducing the environmental footprint of our products. Read more about our supply chain here.
We are building a Shleps community - one where both our customers and our partners are in touch with the full product cycle and each other. Only by creating such self-aware communities, can we build a business that is obligated to be socially responsible and id our economies of excessive consumption, resource exploitation and sweatshop culture. We pay a premium for sourcing our materials locally, however can be sure that the manufacturing is not outsourced to a sweatshop half a globe away. This is a start. We have a vision of making significant social impact. Read more about it here.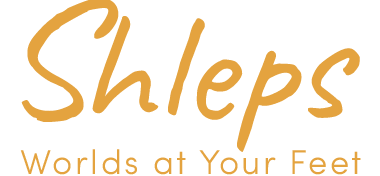 We aim to make a real impact on the social fabric within which we function. In short, we seek to contribute by empowering the elderly, giving them a reason to gather and socialize in community centers, independently earn money, to remain active, strong and self'sufficient. But lets start from the beginning...
Currently Shleps are handmade by professional knitters. This is important for setting high and uniform quality standards for the product. In the future, however, we expect to collaborate with local community centres to include elderly. Community centres become a crucial institution for some elderly that lack the company of their relatives and gives them a much needed stage for remaining active and socialising [3]. By organising Shleps-knitting workshops in community homes, for which the knitters would of course be paid for their work, we will seek to give yet another reason for the elderly to involve themselves into local community life, while also providing them with an opportunity to earn money at the same time. We also plan to inform them about when and who was the pair they knitted sold to - all to put them in touch with the real impact they are having on the lives of others.

It has been repeatedly stated in scientific literature, that disproportionately many elderly suffer from loneliness [1][2]. Loneliness is a serious psychological issue. As most other psychological imbalances, it is also associated to poorer physical health. This creates a feedback loop, wherein the elderly are lonelier, sicker and more lonely still. In addition, the elderly who are the most likely to suffer from loneliness are also the ones who are the most susceptible financially, as they frequently cannot rely on their relatives and friends for support. Opportunities for the elderly to independently earn money despite their old age are already in high demand, however might become particularly crucial to many livelihoods in the future. We believe that we should position ourselves ahead of these issues.

[1] M. Berg-Weger & John E. Morley, "Loneliness in Old Age: An Unaddressed Health Problem", JNHA, 2020
[2] A. Singh & N. Misra, "Loneliness, depression and sociability in old age", IPJ, 2009
[3] H. Arslantaş, et. Al. "Loneliness in Elderly People, Associated Factors and Its Correlation with Quality of Life: A Field Study from Western Turkey", IJPH, 2015.